Lets talk about sex *Plus* Groovy Chick

– G

-spot and Clitoral Vibrator Review
Sex. It is a hard thing to talk about with your partner whether you have been together five years or two days. There are the essentials of course, STD's, condom use and where to draw the line. But when it comes to toy's, how do you open that line of communication? I of course have my own secret stash, and I know my partner has porn. But is masturbation that private that we can not share with another?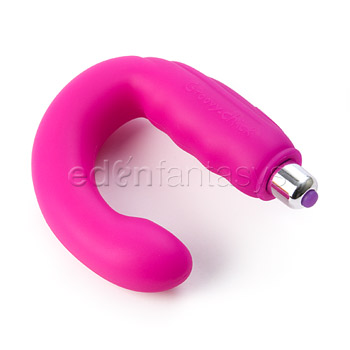 I was giddy with excitement when I was given the opportunity to partner up with
Eden Fantasys
and become a product ambassador. I mean come on, a toy for a review, that's simple! After I finished ordering my
sex toy
, embarrassment washed over me. Usually I settle for a drunk trip to our local
adult shop
and after I have made my careful but quick selection, I scurry away hiding the goods in a little black sack that just screams "LOOK AT ME AND MY PORN I JUST BOUGHT!!". And now here I am, having something so naughty delivered to my house! What if the mailman saw?! And even worse, what is one of my children checks the mail. Needless to say, I made sure I was the one checking the mail yesterday and was delighted to find a simple cardboard box with nothing more than a return address from "shipping department". PHEW! Dodged a bullet with the mailman.
But now, how do I tell my partner I am reviewing a
sex toy
?! He knows I have them, so he must know that I use them right?! After contemplating for several hours on how to break the news about my latest adventure, I decided that this is a wonderful way to open that line of communication. To tell him that yes, this is something that I will use, and you are welcome to use it on me.
**Now I do not want any of you to think that we are the missionary, no noise, nothing fun type. Because boy do we have fun!**
I decided to wait until he got home, and let him open it. Kind getting him something that's really for me, but he gets to enjoy it too scenario. At first he was really confused and thought that it was meant for him to use. No, I explained. It is definitely for me! Just something to spice up our already spice bedroom life. It worked! Open line of communication, and there was our conversation. We have our new bedroom ventures ahead of us, and yes, it may fizzle out. But it may not. The important thing is, we have found a new way to be more open with each other about sex. There should be no conversational boundaries. We should know each others fantasies, likes and dislikes. My old OB nurse put it the best way, "It's a game of red like green like, but with moans". Well I want to be able to talk about the red lights and green lights and not expect him to be able to interpret my moans even after five years.
Now on to my beautiful new
sex toy
! It is a
Groovy Chick G-Spot and Clitoral Vibrator
in Orange. It is this wonderful soft silicon material that is very bendable to your body shape, but rigid enough that is holds up to a beating. It has a very interesting U shape to it that helps hit the "g-spot", and curves upwards to hit the clitoris. There are actually two parts to this toy, something I like to call a "2 in 1". Sometimes I like the toy without the buzz, and this one fits that perfectly. The "buzz" comes from an insert able bullet. It is pretty noisy by itself, but when put to the table test, it "hops" pretty far. My favorite bonus is the wonderful re-use able box that it comes in. Pretty and purple, I can tuck it into my bookshelf and no one (Unless they where looking) would know what it is.
**A small warning about first use**
I was really confused when I opened it and there where no batteries! What
sex toy
does not come with batteries! I searched the box, read the contents, and it should have came with them. Begrudgingly I opened the bullet, and alas! There they where, tucked in and ready to use, just pull the tab and off we go!
And please, for the sake of your own body, always wash before the first use. If you do have silicon toys, most are dishwasher safe, but you can also purchase some non-allergenic toy cleansers.
Where to buy:
Eden Fantasy's
is an excellent
adult shop
where you can find all the
sex toys
to fit your wildest *or most modest* fantasy's! If you visit the website at
http://www.edenfantsys.com/
they currently have free express delivery on all purchases made by this weekend, and ALWAYS have free 3-5 day shipping on purchases over $59.
Now I am off to enjoy myself!
Jess